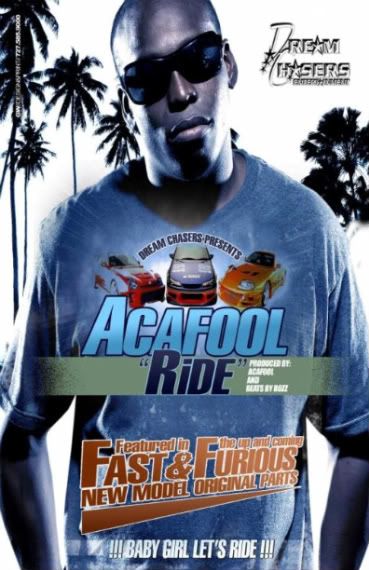 DOWNLOAD SINGLE "RIDE" - HERE
What's Crack'n Peoples!
You already know I give you that
"NEW NEW"
well this video has been long awaited but mos def didn't disappoint "RIDE" a single from the movie
"Fast & Furious 4"
that just stormed the theaters a few months ago! Acafool is a great artist which when you hear him most compare to the likes of Ludacris but def has his own swag and will be invading not only your TV airwaves but radio waves shortly!
He has a great buzz and it's increasing with this single and other hot joints like
"Shut Up"
& his Newest earcrack
"DUI"
his music is entertaining but most of all has a great message with a fun and positive spirit. His comedic yet ear catching lyrics gets you into his music because not only does he has a sick delivery but his beats are
MONSTER
!
(Which immediately commands your attention and before you know it your bobbing your head & tapping your toes which will have you rocking hard!!!!)
Acafool is a not only an amazing performer but a even better person
humble, cool and very in tune to his community, DJ's and more importantly his fans
. We met a minute ago and have been rocking hard ever since
"It's official he get's the whistle!"
He has a bright future a great personality and is destined to blow!
MY BOY ACAFOOL - IS MOS DEF "RATED NEXT"!
Ya Boy Boyee
"Cool V"
The Industry Insomniac!
FOR DROPS, INTERVIEWS ETC CONTACT ACAFOOL:
(Tell Him Cool V Sent Ya!)

www.myspace.com/acafoolinc
www.acafoolinc.com
twitter.com/ACAFOOL