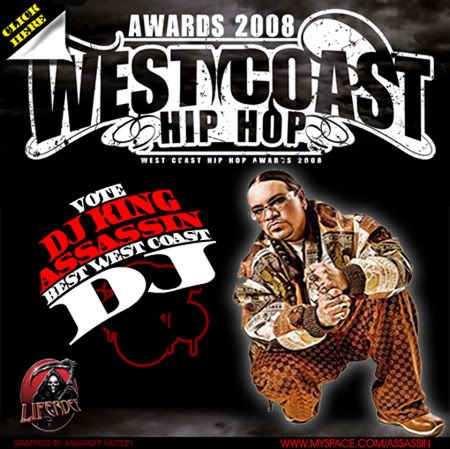 "DJ KING ASSASSIN A TRUE LEGEND!"
WHAT'S CRACK'N PEOPLE!
IN THIS WORLD OF MUSIC YOU RARELY FIND REAL INDIVIDUALS WHO STAND FOR SOMETHING AND WHO'S TALENT SUPERSEDES THE PERSON. WELL, MY BOY BOYEE "DJ KING ASSASSIN" IS JUST THAT DUDE! THIS BROTHA FROM ANOTHER MOTHA DROPS SOME SERIOUS HEAT SEE (
"HERE"
) KING ASSASSIN IS A PIONEER, VET & WEST COAST LEGEND. THIS LEGENDARY PRODUCER OF "2PAC" HAS BEEN IN THE GAME FOR A MINUTE AND MOS DEF PAID HIS DUES!
THE LEGEND RETURNS WITH ANOTHER BANGER (SEE BELOW) THIS CAT IS OFF THE CHAIN MAKE SURE YOU JOIN HIS NEW COMMUNITY
WWW.MAKAVELITHADON.NING.COM
AS WELL AS
WWW.MIXBLASTDJS.COM
IF YOU APPRECIATE REAL DEE-JAYING AND SKILLS THEN YOU WILL MOS DEF APPRECIATE MY HOMIE'S NEW JOINT BELOW AND HE IS MOS DEF OFFICIAL AND GETS THE WHISTLE MY BROTHA BEEN HOLDIN ME DOWN LIKE THE WWF (YA HEARD!!!!) NUFFSAID THIS YEAR IS THE YEAR OF REAL MO FOS OY YESSSSSS WE BACK IN BIG SHOUT TO THE REST OF MY TRUNK HUSTLERS/MIXSHOWBLAST FAMILY (WHISTLES)
YA BOY BOYEE
"COOL V"
THE INDUSTRY INSOMNIAC!